Overview
BERNINA 350 PE: smart and versatile
Extension table for larger work area
The BERNINA 350 PE counts among its features a free-arm extension table enabling you to increase your work area quickly, affording you greater ease when sewing, and allowing for optimum control in guiding your project. Together with the bright LED sewing light, this provides you with the perfect view of your project. Large-format projects in particular can be handled effortlessly – and once you are done, remove the BERNINA 350 PE's extension table with the push of a button to return to free-arm sewing.
High-precision automatic buttonhole function
Sew buttonholes with precise accuracy! With the BERNINA 350 PE's automatic buttonhole function, it could hardly be simpler: the preset buttonhole length is stored in the internal memory, letting you sew buttonholes of the exact same length as often as you wish. Here the BERNINA 350 PE solves a difficult problem, since sewing identical buttonholes can be a bit tricky. With the BERNINA 350 PE, broken bobbin thread or buttonholes of different lengths are things of the past: the automatic buttonhole function gives you perfect results in no time flat. The BERNINA 350 PE gives you a choice of two permanently programmed buttonhole styles to ensure that even beginners simply and nearly effortlessly achieve optimal results that will stand up to the most critical scrutiny.
Memory function with 30 storage locations
The BERNINA 350 PE makes room for your personal creativity: its memory offers space for the permanent storage of up to 30 stitch-pattern combinations. This means you needn't reprogram your personal stitch-pattern combinations each time – the long-term memory of the 350 PE ensures that they're immediately available the next time you turn on your machine. The direct-selection keys let you access the saved stitches in no time flat – this saves time and increases your enjoyment, allowing you to reuse your own personal favorite combinations or most frequently used stitches effortlessly and whenever you feel like it. This memory functionality of the BERNINA 350 PE offers a premium touch that is by no means a given in entry-level models – Swiss quality, designed with attention to detail.
115 Stitches for every situation
One of the most compelling arguments in favor of the BERNINA 350 PE is its extensive stitch library: 85 pre-programmed stitches, making the 350 PE a versatile precision tool. The direct-selection function and modern, bright LCD display allow you to switch between different stitch patterns in a matter of seconds. With 20 utility stitches, two buttonhole stitches, a full 52 decorative stitches, and 11 quilting stitches, the BERNINA 350 PE is an outstanding choice for everyday mending jobs and alterations, as well as creative sewing and quilting. The simple, intuitive handling, first-class functionality, and solid construction of the BERNINA 350 PE ensure that you will continue to enjoy working with this machine for a long time to come – even when you make the transition from simple to more demanding projects.
Stitch pattern BERNINA 350 PE
Accessories Included
Reverse pattern foot # 1
Reverse pattern foot # 1 is the ideal presser foot for sewing forward and reverse-feed utility and decorative stitches.
BERNINA metal bobbins
Four different versions of the BERNINA bobbin are available. The metal bobbins can be used on all BERNINA sewing machines apart from the 7 Series and 8 Series.
Buttonhole foot with slide # 3A
Depending on the model, Buttonhole foot with slide # 3A determines the desired buttonhole length for identical buttonholes either via a sensor or manually.
Zipper foot # 4
Thanks to its narrow, centrally positioned toe, Zipper foot # 4 can stitch very close to the zipper coils, allowing it to sew the zipper on neatly.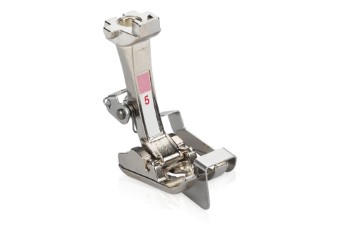 Blindstitch foot # 5
Blindstitch foot # 5 is suitable for sewing blind hems on all fabrics. When this foot is used, you can hardly see the stitching from the front.
BERNINA cordonnet bobbin case for CB hook machines
The special BERNINA cordinnet bobbin case for CB hook machines is ideally suited for sewing with thicker threads, such as cordinnet threads, that cannot fit through the eye of a needle.
Free-arm slide-on table for ultimate sewing comfort
The Slide-on free-arm table is a practical table-extension mechanism for free-arm sewing projects which won't affect free-arm function when in place.
Free-Hand System (FHS) / Presser foot lifter
The Free-Hand System (FHS) / Presser foot lifter lets you raise the presser foot and lower the feed dog with your knee. Recommended particularly when working with delicate fabrics.
Open embroidery foot # 20
Open embroidery foot # 20 is ideal for embroidering with your sewing machine. The indentation in the sole of the presser foot allows it to glide smoothly over dense stitches.
Patchwork foot # 37
Patchwork foot # 37 features special markings and a straight stitch opening and is ideal for patchwork and precision sewing.
Three-sole walking foot #50 with seam guide
Triple sole walking foot #50 with seam guide is an indispensable aid when sewing difficult fabrics.